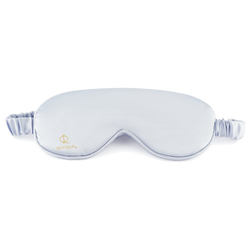 Description: Whether you're traveling, daytime napping or it's just a Tuesday night, beauty rest is essential to looking your best. Our luxurious, vegan silk-like mask is perfect for helping achieve restful sleep so you can take on the world!
Benefits:
Prevents the appearance of wrinkles and fine lines around the eyes
Helps for relaxation and restful sleep
Constructed for the eyes providing maximum comfort
Blocks out sunlight and allows for deeper more productive sleep
Great for travel
Size: One size fits all
How to Use: Use whenever sleeping or resting to aid in relaxation.
Material: 
100% Soft, silk-like polyester (vegan and cruelty-free)
Material is lightweight, making it comfortable to wear, and has a cooler hand
It is durable and resistant to stretching, shrinking, creasing/abrasions, and mildew
Polyester is naturally dense/hydrophobic and quick drying
Elastic back covered by material for comfort